Raids Uncovered Pot And Shed Full Of Watch Dogs But No Suspects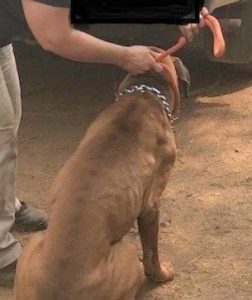 Dogs found at Illegal marijuana grow in Murphys area

View Photos
Murphys, CA — Two properties were searched in the Murphys area Thursday and members of the Calaveras County's Marijuana Enforcement Team (MET) hauled in more than 1,300 pot plants, nearly two pounds of processed marijuana and uncovered a shed full of watch dog.
Both locations had been raided and shut down last year, according to MET officials. On Thursday, the first search was conducted in the 4000 block of Globe Lily where deputies eradicated 313 marijuana plants. In the previous year's raid, the property was tagged for numerous environmental violations including damming the waterway and open/unsecure chemicals in close proximity to the water. Those same conditions were found in the recent search and deputies noted that no attempt had been made to clean up site since the original bust.
The second raid took place in the 4000 block of Esmerelda Road, northeast of Murphys. There deputies turned up 989 marijuana plants and also seized 1.7 pounds of processed marijuana along with 2.41 pounds of butane honey oil or concentrated cannabis. Barks coming from a shed, revealed five dogs. A picture in the image box clearly shows the visible ribs on one of the hounds, which were turned over to Calaveras County Animal Services.
Deputies discovered environmental damage at this site also noting there was improper discarding of petroleum products on the ground throughout the property.
No suspects were found at either site and both cases are still under investigation.