Construction on Highway 108, 120, 49 and 4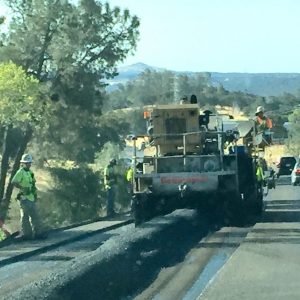 Hwy 4 paving near Copperopolis

View Photos
Caltrans crews continue to work on Mother Lode highways this week.
Pavement work on 108 continues overnight Sunday night through Friday morning between Highway 120/Yosemite Junction and Highway 49 West Junction from 9 p.m. until 6 a.m.. Weekdays, crews will be working on guardrails on HWY 108 from 6 a.m. until 6 p.m. between Lyons Dam and Long Barn Road, West Long Barn Road to east of Long Barn Road and Near West Long Barn Road. From East of Strawberry to West of Cascade Creek Road expect tree and drainage work to delay traffic. On HWY 108 from the passing lane at Twain Harte to West Brown Court more tree work will close a lane and cause 10 minute delays.
On Highway 120 overnight, beginning Sunday night through Friday morning, from either 8 or 9 p.m. until 6 a.m. one lane will be closed between the Stanislaus/Tuolumne county line and the end of the divided highway to Highway 49. Weekdays the paving work is scheduled between the Stanislaus/Tuolumne line and Highway 49 from 7 a.m. until 7 p.m.; also between Mountain Bluff Road and Moccasin Creek Bridge from 7 a.m. until 2 p.m.
The 15-mile stretch of Highway 49 in Mariposa County between Bear Valley Point and Highway 132 remains closed for long-term storm damage repairs to fix a roadway slip-out. Caltrans estimates completion on or around Aug. 31. On Hwy 132 near the Stanislaus/Tuolumne County line to Zarzamora Street there will be drainage work causing 5 minute delays. The work is scheduled for weekdays from 7:30AM to 3PM.
Highway 140 from mile marker 31 to the Yosemite National Park Boundary is closed due to the Ferguson Fire.
On Highway 49 anticipate ten-minute delays for drainage work weekdays between Parrotts Ferry Road and Melones Court. Also on Highway 49 expect ten-minute delays for utility work on Monday between Rawhide Road and Sapphire Ridge Road.
Calaveras Projects
In Calaveras the paving project on Highway 49 goes from San Andreas at HWY 12 to the Calaveras/Amador county line. The $3 million project was awarded to George Reed, Inc., and the hours for the work are limited to overnights, beginning Sunday, from 8 p.m. until 6 a.m. Expect 10 minute delays along this stretch at night into October.
There will be drainage work between Upper Moran Road and the Calaveras Big Trees State Park entrance weekdays from 6 a.m. until 6 p.m. with ten-minute delays. Utility work weekdays between Allen Lane and Williams street from 6:30 a.m. and 5 p.m. may impact traffic.
On Highway 26 work zones may generating up to ten-minute waits. Overnight between Gold Creek Drive and Barbour Road from 9 p.m. until 5 a.m. a utility crew will work Sunday through Friday morning. On Wednesday only Shoulder work is planned on HWY 26 from the San Joaquin/Calaveras County Line to Warren Road. Also on Highway 26, there is utility work from 7 a.m. until 5 p.m. on Monday at Lower Dorray Road to 1 mile west of Ridge Road and Monday thru Thursday from Pine Street to Centennial Mine Road.
Tuesday and Wednesday on HWY 12 in Calaveras more utility work from Haupt Creek to the beginning of the passing lane may also cause delays.