Update: House Fire In Calaveras County Extinguished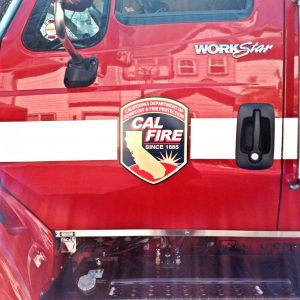 Cal Fire Truck

View Photos
Update at 3 p.m.: Angels Camp Fire Department officials relay that the house fire has been extinguished. The flames broke out around 1:30 p.m. in the 900 block of Stork Road. The flames did spread to vegetation, but crews were able to quickly contain the fire at less than a quarter acre.
There is no word on the damage to the single story home, which was about 25-percent engulfed in flames when firefighters arrived on the scene. What sparked the blaze is under investigation. Crews will remain on the scene mopping up for the next couple of hours.
Update at 2:10 p.m.: CAL Fire reports flames from the house fire on the 900 block of Stork Road has spread to some nearby grass, but it was contained at less than a half acre. Crews continue working on putting out the house fire. Police have closed Stork Road at Bragg Street. Further details on the fire are below.
Original post at 1:30 p.m.:  Angels Camp, CA — Firefighters are battling a structure fire in Angels Camp.
CAL Fire is reporting a large plume of black smoke near Saint Patrick's Church, but it is actually coming from a single story home on the 900 block of Stork Road.  When fire crews arrived at the scene reportedly 25-percent of the house was engulfed in flames. There is no word on whether the flames have spread to any vegetation. Police are blocking Stork Road at Bragg Street. We'll keep you updated as soon as more information comes into the newsroom.