Tuolumne County Awarded $5 Million For Forest Health Projects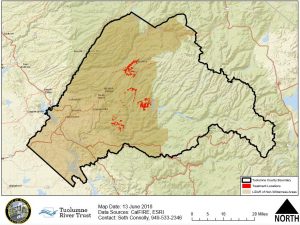 TC Map Showing Some Proposed Treatment Locations June 2018

View Photos
Sonora, CA — As wildfire season rages officials share word of a multi-million dollar grant that will fund forest management plans in the Mother Lode and boost the local economy.
In an interview with Clarke Broadcasting, Tuolumne County Administrative Analyst Liz Peterson recounts that the soon to be incoming $5 million award was a major collaborative between the county and U.S. Forest Service along with other Yosemite Stanislaus Solutions (YSS) stakeholders. While YSS members represent a spectrum of interests ranging from timber industry members to environmentalists, Peterson points out, "Everybody is all in together to make sure that this is successful for the industry, forest, residents and air quality."
Last December the board of supervisors signed the county's Master Stewardship Agreement under which it can conduct restoration projects on the forest. It also provides the mechanism to apply and receive receive funding for supplemental project agreements, also known as SPAs. It turned out that CAL Fire's California Climate Investment Forest Health program, which is funded by cap and trade monies, was the first opportunity that presented itself for larger landscape projects. The county's original request was for $14.7 million. A total of $91 million was awarded across the state.
Stepping Out To Lead Stewardship Efforts
"On a global scale, what this means is that we are going to take quite a large step towards restoring the health of the National Forest, certainly the Stanislaus National Forest," Peterson enthuses. "As we are seeing now with impacts from forest fires – and they are burning at high intensity and severity with tree mortality on the landscape – fires are becoming a more serious threat every year. We get to be proactive about making a change to bring the landscape to a healthier place so that the impacts from fire are reduced."
Too, she comments, "We would see increased habitat. We are hoping to do some meadow restoration projects through the Master Stewardship Agreement…some reforestation stuff. It is really a whole range of things. The goal is to restore the forests to the healthy state that we all know they need to be in."
She adds that the economy also stands to benefit as the projects will be going on for the next few years. "Ideally, we are going to bring more jobs here with the work that we need to do. We are going to have more contractors, the mills could potentially add shifts," she maintains. Unlike many other counties, Tuolumne already has the industry infrastructure: two mills, two biomass plants and a wood shavings plant.
A 'Suite' Of Activities To Consider
The submitted project list, which must now be whittled down somewhat, includes several "low-hanging fruit" Forest Service projects that had gotten through all the federal environmental hoops but did not have funding to begin for the next few years. Describing the group's approach, "We looked at what could be completed within the March 2022 timeline when the money has to be spent," she confides.
Among the "wish list" activities, all focusing within the Tuolumne River watershed area around the 1987 Complex Fire footprint are fuel reduction; thinning; mastication; reforestation; biomass removal;  prescribed fire preparation.
Additionally, there is also a LiDAR acquisition request to gather more data, mapping and analysis, which will help determine future projects. LiDAR radar can pick up on forest characteristics like tree mortality, water retention and vegetation density. Mapping the county then processing and validating the data, which might cost $1.5 million, would provide valuable planning tools.
News of this latest grant comes on the heels of a $178,000 USDA rural business development grant received last month, as reported here, which will study biomass removal from local forests in ways that benefit local forests and businesses.
Other Forest Health, Fire Prevention Awards 
Today, CAL Fire formally announced its funding awards. Two other forest health projects in this grant cycle were awarded locally. One, for  $2.1 million to Save the Redwoods League in Calaveras and Tuolumne counties, will focus on increasing carbon sequestration storage potential, augmenting climate change and fire resilience, enhancing critical habitat and improving water quality in Calaveras Big Trees State Park and at Beaver Creek. The project will also begin developing a cohesive plan for managing fire and other threats.
The other, a nearly $2.7 million award to the University of Nevada-Reno, will fund a Sierra Nevada-wide silvicultural treatments and fuels reduction program involving six counties, including Tuolumne.
In addition to the forest health grants, CAL Fire also divvied up $79.7 million in prevention project awards statewide to 142 recipients. Locally, the County of Tuolumne received over $1.6 million; Highway 108 Fire Safe Council just over $250,000; State Parks and Recreation over $102,000. In Calaveras County, the Calaveras Foothills Fire Safe Council was awarded six grants totaling nearly $3 million; Calaveras Resource Conservation District received almost $101,000; Utica Water and Power Authority, $7,000.