Hanvelt Appointed To NACo's Public Lands Policy Steering Committee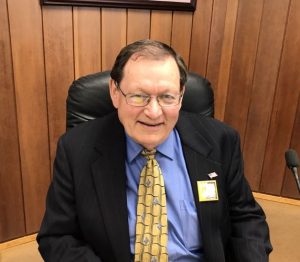 Randy Hanvelt

View Photos
Sonora, CA — Tuolumne County Supervisor Randy Hanvelt has taken on a new role that he hopes will bring more national attention to forest related issues.
Greg Cox, President of the National Association of Counties (NACo), appointed Hanvelt to a one-year term as chair of the organization's Public Lands Policy Steering Committee. NACo is a group with strong national influence that often has the ears of federal lawmakers on policy decisions. Cox, a San Diego County Supervisor, made the selection shortly after being sworn-in at the group's annual conference held earlier this month in Tennessee.
In an interview with Clarke Broadcasting this morning, Hanvelt stated he wasn't actively seeking the position, but was very honored when asked. He says, "It gives us a chance to make sure our voices are heard. It is good for California and the Western states…many who have similar issues as us."
Hanvelt indicates a desire that the committee can have an impact over the next year in helping to weigh in and advocate for polity changes in Washington, DC. He adds, "I'd like to have our national policy be rational, and balanced, considering all the values that we need to consider. I think that if we had been doing this in a balanced fashion, we wouldn't have had the severe impacts of the overgrown forests, and the wildland fires wouldn't be as severe. I think we'd improve our water, our recreation, our tourism, and all of the right things."
As supervisor, Hanvelt has been involved in many forest related matters, including the recently signed Master Stewardship Agreement between the county and the Stanislaus National Forest. He was also the board chair during the 2013 Rim Fire, which ignited five years ago, next month.
Hanvelt acknowledges the new role comes with extra responsibilities, in addition to his role as county supervisor, but he feels there will be long term benefits to have Tuolumne County's voice heard at the national level. In taking on the role, Hanvelt said he received support from his fellow board of supervisors, the California Association of Counties, Congressman Tom McClintock, Assemblyman Frank Bigelow and others.