Local Radio Celebrity Wins Big At Chicken Ranch Casino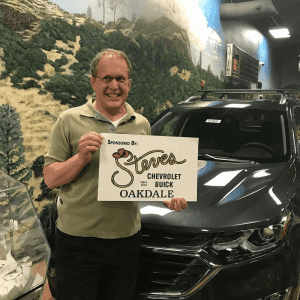 Mark Truppner Winner of Chicken Ranch Casino 2018 Summer Equnox Giveaway with Steves Chevrolet Buick of Oakdale

View Photos
Jamestown, CA — Nearly busting with his own breaking news, KVML morning man Mark Truppner won a brand new, fully loaded Chevy Equinox SUV with an MSRP value of $36,500 in a grand prize drawing at Chicken Ranch Casino Wednesday night.
It was not until he signed off his Thursday morning air shift that Truppner shared with his radio colleagues just how he wound up winning his sleek new ride and we all were incredulous at his good fortune. Calling it a "surreal" experience, he admitted his legs turning to jelly as he waded through hundreds of people when his was the first lucky ticket pulled at 7 p.m. Truppner had the choice of the new wheels, provided by Steves Chevrolet Buick of Oakdale, or $20,000 in cash. He says the decision for him was a no-brainer.
The casino's "2018 Summer Equinox Chevrolet Giveaway" promotion since its May 7 kick off, had accrued literally thousands of entries through Players Club members' casino play. Truppner recounts, "I had several entries inside the drawing drum and the only hard rule that Chicken Ranch had is that you HAD to be present to win…you had three minutes to respond and if you did not…they would move on to the next name."
Asked if he had any premonition of winning he replied, "I thought 'I need to be there in case they call my name'…didn't want to hear 'hey, they called your name and you were not there'."
Congratulations, Excitement All Around
"Mark is a pillar of this community and we couldn't be any happier for him and all the grand road adventures in his future," states General Manager Sam Blackford, further thanking Steves Chevrolet Buick. Sharing a bit more excitement, he says Chicken Ranch Casino is currently in the process of expanding. Bingo will be moving to a new building opening in September. "Once this is completed the existing Bingo Hall will transition into a continuation of our gaming floor including 200-plus machines, nine table games and a new no-smoking area," he enthuses. A grand re-opening is slated for early next year.
"The Chicken Ranch Band of Mi-Wuk Indians is excited for the addition of jobs that will be added to the community while allowing us to grow," comments Tribal Chairman Lloyd Mathiesen. "Lots of exciting things are on the horizon and we are looking forward to what it holds."
Jeff Steves, owner of the dealership that ponied up the prize vehicle, confides that this is his first giveaway in awhile with the casino and tribe, which he greatly enjoys working with — and he is loving every bit of it. "I always look so forward the next morning [after the drawing] to make that phone call to the winner because they are pumped – it is so fun to make that phone call and congratulate them and they are so jazzed."
Continuing, he confides, "When Mark picks up the car in the early afternoon, it will be all detailed, filled with gas, all pretty. We will go over it with him, make sure he knows how everything works and all that."  Feeling the thrill of helping make a winner's dream come true he says, "It's just the best – the only thing equal to that is a young person gets their very first new car…those two are the best!"