Firefighters Battle Overnight To Contain Mountain Ranch Fire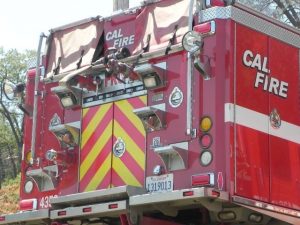 Cal Fire Truck

View Photos
Mountain Ranch, CA – Crews remain on the scene of a grass and brush fire in the Mountain Ranch area where a vegetation fire threatened a home yesterday.
CAL Fire spokesperson Lindy Shoff reports the fire was fully contained in the ten o'clock hour this morning at almost ten acres. The blaze was reported at 95-percent containment around 8:30 p.m. on Wednesday. Since then crews have been working on extinguishing the remaining flames, mopping up and checking for hotspots.
The fire broke out just before 3 p.m. between two homes in the area of Rail Road Flat, Jesus Maria and Spring Lake roads, northwest of Highway 4, as earlier reported here. Initially, one of the homes was threatened by the flames. It is unclear if anyone was at either of the homes when the fire erupted.
No injuries were reported in the blaze, according to Shoff, who expects the crews to finish mopping up in the next hour. What ignited the flames remains under investigation.