While Working Another Call, Police Hear A Plea For Help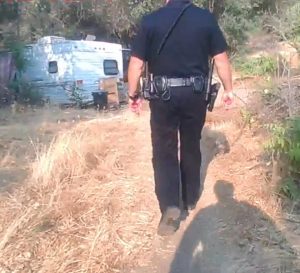 Arrest scene on Stockton Road

View Photos
Sonora, CA – After responding to a separate call in the area of Stockton Road and Mill Villa Court Thursday morning, an officer searching the area on foot suddenly heard a woman screams coming from a travel trailer nearby.
Police Sgt. Tim Wertz details, "He could hear a female's voice inside the trailer yelling 'Get off of me and no! The officer also saw that the trailers door was open and when he looked inside he saw a male subject attempting to pull a female out of the trailer. The victim had her foot wedged on the wall keep her from being pulled out of the trailer."
The man, 50-year-old Larry Hunter of Jamestown, had a hold of her feet but when the officer called out, he dropped her feet and "made a movement the officer believed was going to result in injury," according to Sgt. Wertz.
Hunter was taken into custody. A search of the trailers uncovered a 22 caliber rifle by the door that belonged to Hunter. As he has a prior felony conviction for robbery and assault with a deadly weapon he is not allowed to have a firearm.
Hunter was booked at the County Jail for domestic battery and felony possession of a firearm. The victim was not hurt in the incident. Police report that she and Hunter have been in a relationship for the past three years, but had got into an argument.
Of note, last year Hunter was arrested after a traffic stop involving a pooch with drugs stashed in his doggie coat pocket, as reported here.