Drugs Found In A Pooch's Pouch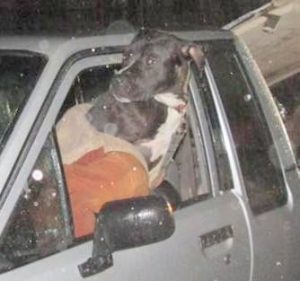 Dog in jacket at drug bust scene

View Photos
Sonora, CA — A broken down truck led to the arrest of three people that used unique hiding places to stash their illicit drugs including a canine's jacket.
Sighting a silver Toyota truck with its hood up on the side of Stockton Street in Sonora on Sunday night, a Tuolumne County Sheriff's Deputy pulled over to help. The deputy recognized the man under the hood as 50-year-old Larry Hunter who had active warrants for his arrest. Inside the pickup he spotted 30-year old Lennette Forgan who also had an arrest warrant, 42-year old Christopher Phillips, and a large dog wearing a tan Carhartt coat as seen in the photos in the image box.
During a search the deputy pulled a stash of methamphetamine out of the pocket of the pooch's coat and found five grams of meth hidden in the engine's air filter with another half gram stashed between the seats. In the pockets of the humans, was a loaded magazine found on Hunter and a meth smoking pipe on Forgan.
Hunter, Forgan, and Phillips were booked into the Tuolumne County jail on drug charges.