Sonora Trustees To Hear From Dome Support Group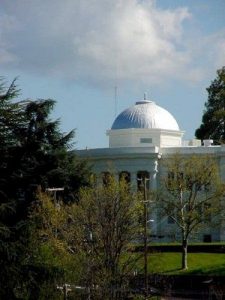 Sonora, CA

View Photos
Sonora, CA –- Amid plans to find a buyer for its historic landmark Dome property a local school district will be hearing from those backing a new community endeavor to preserve it.
At tomorrow night's Sonora Union High School District board meeting, Superintendent Pat Chabot says the agenda has slotted time to hear from a recently organized group. Further explaining, he shares, "I met with a group of people who are calling themselves The Dome Foundation…trying to establish themselves as a nonprofit 501 c 3 and they wanted to make a presentation to our board and to our the community to let them know who they are — and what they plan on doing." Speculating that trying to raise funds to save the Dome, he says among their plans are perhaps to establish a museum there.
Meanwhile, the board plans to approve obtaining title reports to clear the way for the sale of the Dome building as well as the district's Wildcat Ranch property, for whatever potential plans that might work out for that holding. The Dome would then need to be parceled from the plot containing Cassina High, gym and athletic fields, which the district is retaining.
In related news, Chabot confides that due to busy summer schedules on both sides, he and board members are still working to find an amenable date to meet with members of the Park Foundation who are interested in funding a land swap deal to obtain the Wildcat Ranch for the purposes of building community park facilities on that land.
Also on the agenda is a transfer of over $128,000 from the district's Measure J fund back into the economic uncertainty fund from which monies were tapped last year in order to cover final costs involved with completing major construction projects at Sonora High, including the new pool pavilion. Chabot estimates a budget over run of about $150,000 to those projects.
As far as the summer recreation programs at the school pool are going, Chabot says the partnership with the county is working out well. "We have rec swimming from 1 to 4 most days, lessons in the morning, and our water polo team is in there in the evening so it is being used quite a bit," he reports. "It is kind of fun listening to the kids, screaming and yelling and having a great time out there," he says. Adding that the turn out for lap swim time is good but not huge, he confides, "I am actually thinking of going out there tomorrow morning, myself."
The district is also working on finding Chabot's successor since he will be retiring at the end of July. Asked how things are going with regard to that bit of business, Chabot shares, "I am not really involved in that process but from what I understand we have some fantastic candidates…I think the interviews are going to be within about two weeks and some interview panels are being developed."
Tomorrow's meeting begins at 6 p.m. in the Sonora Union High School District first floor conference room.