Update: Progress On Horse Fire Near Copperopolis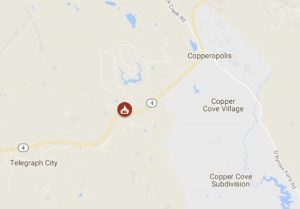 Horse Fire Near Copperopolis

View Photos
Update at 7:05 p.m.: CAL Fire reports the Horse Fire is 50-percent contained at 50 acres. Evacuations are being lifted. Crews will remain on scene gaining full containment and mopping up into the night.
Update at 5:10pm: CAL Fire spokesperson Lindy Shoff reports the forward rate of spread has been stopped on the Horse Fire in Copperopolis. It is estimated to be 50 acres. That said, the earlier evacuation orders and advisories remain in place as firefighters work towards building a containment line around the fire.
Update at 4:30pm: CAL Fire reports that there is a Horse Fire "mandatory evacuation order" for residents on the west side of Conestoga Trail from Stagecoach Road to Highway 4.  There is a less severe "advisory evacuation notice" for residents on the east side of Conestoga Trail. The Horse Fire is still estimated to be around 25-30 acres. Residents on the west side should leave immediately and those on the east side should prepare to leave.
Update at 4:03pm: The Horse Fire in Copperopolis is now 25-30 acres, according to CAL Fire. It has been expanding quickly. We'll pass along more information as it comes into the news center.
Update at 3:50pm: CAL Fire reports the Horse Fire near Copperopolis is 5-6 acres in size. There are no initial reports of homes or buildings being at risk.
Original story posted at 3:40pm: Copperopolis, CA — Some of the air resources assigned to the Flat Fire in Moccasin are being diverted to a new incident in the Copperopolis area.
CAL Fire notes that early reports are that the so-called "Horse Fire" is ½ acre in size. It is near the intersection of Stagecoach Drive and Horseshoe Road. There is no word at this point if there are any homes or structures in danger.