County Reviews Potential Transient Occupancy Tax Increase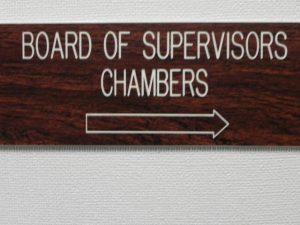 Tuolumne County Board of Supervisors Sign

View Photos
Sonora, CA — The Tuolumne County Board of Supervisors spoke positively about benefits of increasing the tax placed on visitors to hotels and lodging and requested further information at a later meeting.
The county is considering placing a measure on the November ballot that would increase the current transient occupancy tax from 10-percent to 12-percent. Tuolumne County Visitor's Bureau Executive Director Lisa Mayo recently brought it up to lodging partners, and they expressed some reservations. She stated at today's supervisors meeting, "They cited competition with neighboring counties…as well as price fatigue, and also guest reviews and how those relate to online reviews. That is something that I think we really haven't had to look at a lot, but now we do."
Regardless of the concerns raised, the supervisors expressed an openness to continuing talks about placing a TOT increase on the November ballot. The details need to be finalized by August 10. District Five Supervisor Karl Rodefer stated that he travels frequently and never has the TOT played into where he stays. He added that it is something you typically learn about at the end of the trip. Supervisors Randy Hanvelt and Sherri Brennan also spoke about the benefits of increased revenue. However, it was emphasized that no final decision was being made today.
District Three Supervisor Evan Royce expressed some hesitation with supporting the measure, noting that he would want to hear more from the Visitor's Bureau and its lodging partners.
During public comment period, community resident Carol Doud spoke negatively about increasing the tax, arguing that the county needs to do more to make the county a desirable place to visit before asking for more tax revenue. She cited trash in areas and dog poop along sidewalks.
Former Tuolumne County Chamber of Commerce CEO, and retired CHP Lt. Commander, Mike Ayala, spoke in favor of the proposed ballot measure. He cited that visitors use ambulances and emergency services and an increase could help the budget. He stated it is "overdue."
The county directed staff to come back with different alternatives, and to make any ballot measure as simple as possible. Different options include increasing the current tax to 12-percent, expanding it to campgrounds, or doing both. The two-percent increase would bring over $700,000 in additional revenue and the expansion would bring around $250,000.