Thrown Stash Helps Nab Wanted Jamestown Woman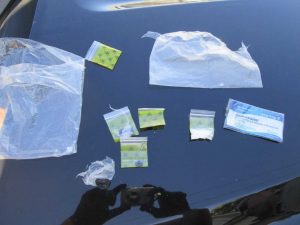 Drugs seized

View Photos
Sonora, CA — A short pursuit in Sonora led to two arrests a Tuolumne County deputy giving chase watched the driver of a van dump drugs out the window.
The deputy was patrolling on Mono Way when he recognized 39-year-old Gina Cook of Jamestown, who was wanted on drug possession charges, behind the wheel of a van Thursday morning. When the deputy attempted to pull the van over Cook hit the accelerator and turned onto Barretta Street. According into sheriff's officials, while heading down the road she tossed a plastic baggie out of the driver's side window. A couple blocks later at South Shepherd Street, Cook pulled the van over.
Cook admitted to throwing the drugs from the vehicle, which included 4 suboxone patches, 3.09 grams of heroin, 1.5 grams of methamphetamine and several smaller plastic baggies, as seen in the picture in the image box.  She and her passenger, 23-year-old Armando Gonzalez were arrested and booked into the Tuolumne County Jail for possession of drugs and paraphernalia. Cook was also charged with possession of drugs for sale and her outstanding warrant. Once at the Tuolumne County Jail, an additional baggie containing 1.12 grams of meth was found hidden on Cook.
Of note, Cook was arrested with two other suspects last October during a sheriff's High Risk Supervision Team raid at a Jamestown home where she was found with heroin on her, as reported here.