More Clarity After Additional Calaveras Ballots Counted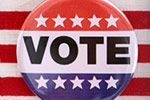 elections

View Photos
San Andreas, CA — The Calaveras County Elections Office has released updated results from last Tuesday's primary election, and some leads have tightened while others have expanded.
Following Election Day there were still several thousand provisional and vote-by-mail ballots to be processed and tabulated. The election's office reports that only 500 still remain, and they mostly include provisional ballots issued on Election Day.
In county races, if a single candidate fails to garner over 50-percent, the top-two vote getters move on to the General Election in November. In the race for Sheriff, Rick DiBasilio has dropped to 48.8-percent, so it appears more and more likely that he will move on to a runoff with Gary Stevens, who has 28.3-percent.
In the race for Calaveras County Supervisor District Three, Merita Callaway has increased her lead to just over 48-percent, but it is also not enough to avoid a runoff with incumbent Michael Oliveira, who has 28.8-percent. In District Five, challenger Benjamin Stopper leads the way with 32.4-percent, and he is preparing for a runoff with incumbent Clyde Clapp who has 30.4-percent. Early results on Election Night had Clapp in the lead, but he was later passed by Stopper.
In Tuolumne County, the remaining hundreds of ballots to be processed are not expected to impact the final outcome of the board of supervisor races, and both districts will head to a runoff.  As reported recently, in District Two, Randy Hanvelt has 44.9-percent and Ryan Campbell has 33.6-percent. In District, Three Anaiah Kirk has 35.9-percent and Laurie Sylwester has 32.8-percent.