Traffic Alert: For Two Sonora Roadways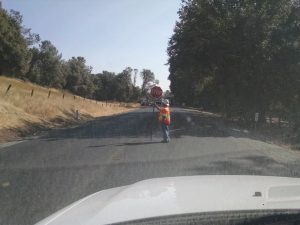 Flaggers dircecting traffic

View Photos
Sonora, CA — Motorists will face short delays during the morning and evening commute tomorrow along two Sonora roadways due to Tuolumne Utilities District (TUD) road work.
GT Construction Incorporated, under the direction of TUD, will be patch paving along Snell Street and on Gibbs Drive in the Gibbs Estate area on Wednesday (June 13) from 7 a.m. to 5 p.m. Flaggers will be directing traffic, which will result in 5 to10 minute delays during those hours.
Motorists are encouraged to use an alternate route if possible and drive with caution in this area while work is going on in the cone zone.