Sullivan Creek Given All Clear After Sewage Spill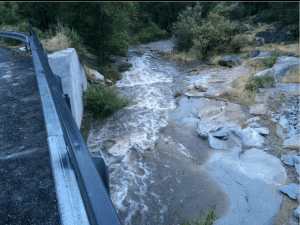 Sullivan Creek At Phoenix Lake Road (Near Estates)

View Photos
Sonora, CA – Although it was determined that no raw sewage contaminated Sullivan Creek after a nearby spill last month, it was not until today that warning signs along the waterway were taken down.
The spill happened on May 27 at 21581 Phoenix Lake Road near Creekside Drive, as reported here. The problem arose when the private side of a sewage line was blocked prior to interfacing with the TUD main line, according to Tuolumne County Environmental Health officials.  At the time, contamination warning signs were put up as a precaution by the department until a determination that there was no sewage overflow could be made.
Health officials returned to the creek today and found the steps taken to correct the pipe problem worked. They gave the all clear for the warning signs to come down allowing the public to once again swim, drink, fish or carry out any recreational activities near or in the water. However, health official do advise anyone utilizing the creek to wash their hands or any floating devices or toys after swimming.