Raising Community Awareness About Elder Abuse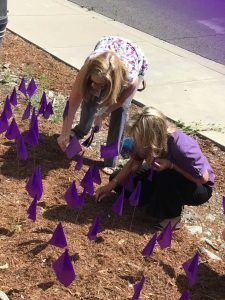 Kristin Cruz, Fiscal Technician, Tuolumne County District Attorney's Office and Victim Witness and Kristin Millhoff, Director, Area 12 Agency on Aging - inserting flags representing the 144 elder abuse victims in Tuolumne County

View Photos
Sonora, CA — 144 flags are up in front of Adventist Health Sonora to signify the number of victims of Elder Abuse in Tuolumne County last year.
The flags were put in place shortly after the Board of Supervisors this week declared June 15 as World Elder Abuse Awareness Day.
District Attorney Laura Krieg stated at the board meeting, "Our main mission is to increase reporting and increase our community outreach efforts, which we are certainly committed to doing. We do know that the majority of elder abuse goes unreported. In physical and mental abuse cases, only one in 24 will report, and the statistics are worse for financial abuse, which is only one in 44 cases reported."
By raising awareness about elder abuse, county officials are hoping that more victims come forward.
It was also announced that an Elder Empowerment Conference is scheduled for next week at the Black Oak Casino Resort, and the community is invited to attend the free event. It will feature local speakers such as Tuolumne Band of Me-Wuk Indians tribal members Zandra and Dore Bietz, Tuolumne County District Attorney's Office Victim Witness Program leader Ginger Martin and YES Partnership Director Bob White. Other dignitaries will include Christina Snider, the Executive Secretary of the Native American Heritage Commission and Tribal Advisor to Governor Jerry Brown, and Dr. Patrick Arbore, the founder of the Center for Elderly Suicide Prevention and Grief Related Services.  For more information, or to make reservations, you can call 532-7632. It will be Wednesday, June 13, from 8am-4pm.
The local groups teaming up to raise awareness about Elder Abuse include the District Attorney's Office, Mother Lode Office of Catholic Charities, Adventist Health Sonora, Tuolumne Band of Me-Wuk Indians, Area 12 Agency on Aging, Amador-Tuolumne Community Action Agency (ATCAA) and Tuolumne County Adult Protective Services/Behavioral Health.