Mother Lode Voters Choose Feinstein And Cox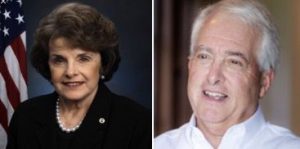 Dianne Feinstein and John Cox

View Photos
Tuolumne County, CA — See how Mother Lode voters cast ballots in the US Senate and Governor's race compared to the rest of the state.
Senate and Governor were the two most high profile seats on Tuesday's primary ballot.
The current statewide results indicate two Democrats will likely go head-to-head in the race for California's US Senate seat this November.
With just under 100-percent of the precincts reported, incumbent Dianne Feinstein has 43-percent of the vote. Early returns yesterday showed Republican James Bradley in second place, hovering near 10-percent. However, the latest figures this morning have Democrat Kevin De Leon jumping into second with 11-percent and Bradley in third with just under 9-percent.
The top two vote getters, regardless of party affiliation, advance to the General Election.
In Tuolumne County, Feinstein is also the leader with 32-percent of county votes, Bradley has 16-percent and De Leon has only 5-percent. Feinstein also leads among Calaveras County voters with 29-percent to Bradley's 17-percent.
As reported earlier there will be a Democrat and Republican in the race for California Governor in November. Democrat Gavin Newsom has 33-percent of the statewide vote and Republican John Cox has 26-percent. They are followed by Democrat Antonio Villaraigosa with 13.5-percent, Republican Travis Allen with 9.7-percent and Democrat John Chiang with 9-percent.
Tuolumne County voters have a different opinion of the Governor's race. Cox leads the way locally with 36-percent, Newsom has 28-percent, Allen has 15-percent and Villaraigosa and Chiang both have 5-percent.  In Calaveras County, Cox has 37-percent compared to Newsom's 24-percent.
To read an earlier story about local election results, in races like board of supervisor, tax collector and city council, click here.