Election Day Reaction From Local Candidates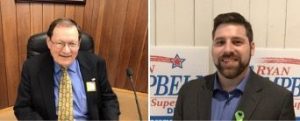 Randy Hanvelt and Ryan Campbell

View Photos
Sonora, CA — The morning after Election Day it appears that all supervisor races in Tuolumne and Calaveras Counties will move on to a November runoff as no single candidate has over 50-percent of the vote.
That said, there are still many ballots to count over the coming days. Tuolumne County Clerk and Auditor Controller Debi Bautista says 2,190 vote by mail ballots were dropped off yesterday at polling locations and around 1,500 arrived from the post office. It is a similar story in Calaveras County.
In the District Two Tuolumne County Supervisor race, incumbent Randy Hanvelt has 46-percent of the vote, a comfortable lead over second place. Looking ahead to November, he says, "I feel good about where I am. It would be unrealistic to expect to win outright (during primary) when you have a three person race. You split the vote. But on the other hand, we came close."
Hanvelt is planning for a runoff with Ryan Campbell, who has around 33-percent. Campbell notes, "It has been a while since we've had an incumbent with a really serious challenger. That's what I am. I am really serious about getting better outcomes for the residents."
In the District Three Supervisor Race, Anaiah Kirk leads the way with nearly 35-percent of the vote. Asked about what resonated with his campaign, he says, "What I got from the thousands of doors that I knocked on was that people liked that I'm transparent, I'm young, and they know what they're getting from me. People knew what they were voting for when they picked me."
Kirk will face Laurie Sylwester in a runoff after she received around 33-percent. She says, "I serve everyone and really listen to people. There are a lot of people that feel that they would like to have someone asking hard questions and digging into the issues."
Justin Birtwhistle will be the new Tuolumne County Tax Collector after receiving about 65-percent of the vote. He says, "I'd like to thank the voters of Tuolumne County. I'm honored by the faith they have put in me. I look forward to serving them, and customer service will be a top priority."
In the Sonora City Council race the top two vote getters are Colette Such with 39-percent and Jim Garaventa with 33-percent. David Axelrod is a distant third with 14-percent, so it appears as though Such and Garaventa will win the seats.
In Calaveras County, it looks like Merita Callaway will go to a runoff with Michael Oliveira in the District Three Supervisor race and Clyde Clapp and Benjamin Stopper in District Five. In the sheriff's race, Rick Dibasilio has just a fraction under 50 percent so he could be headed for a runoff with Gary Stevens with 29-percent.
In the US House Race it will be Republican Tom McClintock against Democrat Jessica Morse.
McClintock has around 51-percent of the vote, and says, "The election is stunning proof that the shrill voices of the left do not speak for the people of our communities, and that as we approach the crucial November mid-term elections, our nation will stay the course and restore American greatness, prosperity, freedom and security."
Morse who has around 19-percent, counters, "I am grateful for the hard work that my family, volunteers, and staff put into this effort, as I could not have gotten this far without their constant support. As I have learned over the past year traveling across all ten counties in the 4th district, nothing can erase the enthusiasm and passion awakened by our campaign."
In Senate District 8, it will be Republican Andreas Borgeas against Democrat Paulina Miranda.
In the race for Governor it will be Democrat Gavin Newsom against Republican John Cox.
Click here to find more election results.