Child Welfare Services Responds To Alleged Heroin Dealers' Home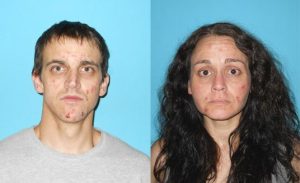 Russell Lee Jr. and Erin Debello

View Photos
Sonora, CA —  Following the arrest of a couple at the Crystal Falls Mini Mart for alleged drug dealing, a probation search of their home revealed more drugs in areas easily accessible to two children.
The home of 29-year-old Russell Lee Jr. and 39-year-old Erin Debello at American River Drive in Sonora was searched by the Probation-Deputy High Risk Supervision Team. Lee had an outstanding warrant for violating his supervision terms and the two were recently released pending they appear in court related to charges of possessing narcotics for sale as reported earlier here.
Inside the home Sgt. Andrea Benson reports the search revealed; heroin, methamphetamine, crushed xanax, large amounts of marijuana, honey butane oil, and drug paraphernalia including hypodermic needles and digital scales.
Child Welfare Services was contacted and took the two children living at the home to a safe place until other arrangements can be made with family.
Debello and Lee were arrested and booked into the Tuolumne County Jail. Debello is being held on a $25,000 bail for willful cruelty to a child. Lee is being held with no bail for his probation violations and the additional charges of drug possession, possession of a controlled substance for sale, possession of drug paraphernalia and willful cruelty to a child.