Alleged Heroin Dealers Nabbed Near Mini Mart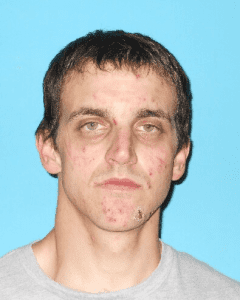 Russell Lee Jr TCSO Booking Photo

View Photos
Sonora, CA — A traffic stop in a mini mart parking lot last night quickly turned into a drug bust involving two Sonora residents.
According to Tuolumne County Sheriff's spokesperson Sgt. Andrea Benson, a sergeant after observing a Chevrolet SUV traveling at a high rate of speed on Crystal Falls Drive in Sonora and failing to come to a complete stop at Longeway Road, followed the vehicle as it turned into the Crystal Falls Mini Mart.
Approaching the driver, 39-year-old Erin Debello, the sergeant reported detecting a strong marijuana odor. Sgt. Benson states that Debello's passenger identified himself with a false name and driver's license but later gave his correct name as 29-year-old Russell Lee, Jr. of Sonora.
Lee admitted to being in possession of drugs and since a records check revealed he was on searchable probation a subsequent search was made of him and the vehicle. It turned up a zippered case containing nearly 11 grams of heroin; two spoons with heroin residue; five hypodermic needles; several cell phones. It also located a backpack in the passenger floorboard containing a working digital scale, over 100 new small baggies, a toot straw used to smoke heroin, and evidence of drug sales.
Debello and Lee were arrested and booked into the Tuolumne County Jail for charges of possession and transportation of a narcotic substance for sale and possession of drug paraphernalia. Lee was additionally charged for using a false ID and committing a felony while out on bail.