Democrats: Congress Has A Special Interest Agenda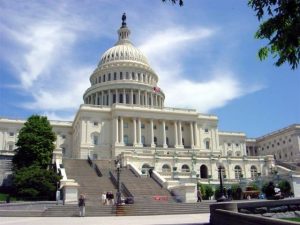 US Capitol

View Photos
During the Democratic Weekly Address, Representative John Sarbanes (D-MD) stated Congress has "a special interest agenda that puts Wall Street first and the oil and gas industry and the big money crowd."
Sarbanes was Tuesday's KVML "Newsmaker of the Day". Here are his words:
"Hello, I'm Congressman John Sarbanes. I represent Maryland in the House of Representatives and I chair the Democracy Reform Task Force for the Democrats in the House. And I'm excited to talk to you today about A Better Deal for Our Democracy, which is a powerful reform platform that we're putting forward to Americans all across this country, because we know that people feel like Washington doesn't work for them anymore; that we need to fix our institutions, that we've got to let your voice back into things here on Capitol Hill and make sure that your priorities are the ones that govern us, as opposed to priorities of special interests and big money and insiders.
We know that people are tired of the current politics. We hear it every day. When I'm in my district, people come up, they have this sense of being powerless in their own politics and in their own government, because they look at Washington and they see a system that benefits special interests and powerful influencers – and we need to address that. And the Democrats have a plan to do it.
Unfortunately, the Republicans have gone in the other direction. Here in Congress, there is a special interest agenda that puts Wall Street first and the oil and gas industry and the big money crowd. This Administration promised to come up here and clean things and fix a broken system. They've only made it worse. So, we understand why people are getting even more cynical by the day.
We want to offer something different. We have a plan to reform our democracy.
A Better Deal for Our Democracy has three key components.
First of all, we want to empower the American voter. We want to make it easier, not harder to register and vote. We want to address partisan gerrymandering, so that people feel respected in terms of how districts are drawn across the country. So, we have a plan for that. We want to strengthen the voting rights act to make sure that everybody has a fair opportunity to vote in our democracy. So these are key elements that we are putting forward as part of A Better Deal for Our Democracy so that voters feel respected.
We also want to address ethics and accountability. This is the most ethically blind administration we have ever seen. From the President on down, people just don't respect the ethical lines. We need to change that. We need to strengthen the Office of Government Ethics so it has the enforcement authority to go do its job. We need to make sure that if you go run for President, you have to release your tax returns. That's a basic indicator of transparency. So, there are things we can do to improve ethics and accountability and clean up the culture of corruption where we see it.
The third thing we want to do as part of our Better Deal for Our Democracy agenda is we want to make sure that big money and special interests are not in charge up here. We can fix our campaign finance system. There's too much secret money coming from Super PACs and other big players out there, who pour money into our politics and hope to have influence from it. We can push back on that with disclosure and transparency. We've got to make sure that we have citizen-owned elections, so that you're in charge, you're the ones that power campaigns in America and candidates and Members of Congress and lawmakers turn to you, and are accountable to you for your interests. So there are a lot of things we can do, including a Constitutional Amendment to address that terrible Citizens United case.
All of these are part of key elements of a reform agenda that can make a difference for the American people. If we have A Better Deal for our Democracy and fixed our institutions, it would mean that lobbyists aren't in charge anymore up here. If we have A Better Deal for our Democracy, it means that big money and special interests won't call the shots.
We can get this done. And we owe it to the American people to make these changes to ensure that your institutions of democracy are responding to you. That's what A Better Deal for Our Democracy is all about. That's what we're putting forward. We want to get back to a government, of, by and for the people."
The "Newsmaker of the Day" is heard every weekday morning at 6:45, 7:45 and 8:45 on AM 1450 and FM 102.7 KVML.