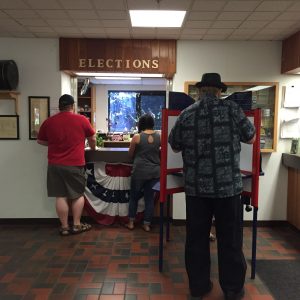 Tuolumne County voters

View Photos
Sonora, CA – The deadline is next week to be able to vote in the June primary.
In California, people must register at least 15 days before an election. This year that date is Monday, May 21, which is the last day to register to vote in order to be eligible for the June 5th Primary.
A voter must re-register when they change names, permanent residence or a political party choice. Tuolumne County Election Official Deborah Bautista recommend registering online as it is the easiest, but shares, "One can come into my office and fill out a registration card. One can go to the post office and fill out a cards, but make sure that by midnight on the 21st , either via the internet or the registrations been mailed, one does that so that one can be registered to vote with the right material and the right ballot."  Bautista's office is located at 2 South Green Street in Sonora.
Registration forms are also available at all County departments such as social services, behavioral health, and public libraries. To register online, click here.