Destinee Berry Is The New Miss Calaveras 2018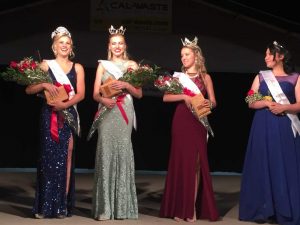 From left to right: Miss Calaveras 2018 Destinee Berry, 1st Runner Up Summer Hamari, 2nd Runner Up Ava Mosley, 3rd Runner Up Briana Wagner

View Photos
The 2018 Miss Calaveras was crowned Thursday night, during the Miss Calaveras Scholarship Pageant at the Calaveras County Fair and Jumping Frog Jubilee.
Destinee Berry was also Friday morning's KVML "Newsmaker of the Day".
Berry is an eighteen year old senior at Calaveras High School. She lives in Valley Springs.
During the talent portion of the Scholarship Pageant, which was 30% of the judges total vote, Berry demonstrated proper CPR on both an adult (dummy)and an infant (dummy).
Berry will be using her $1,000 Angels-Murphy's Rotary Club Scholarship this fall, as she plans to attend California State University, Monterey Bay. Berry would like to major in biology and plans to attend medical school with the goal of becoming an obstetrician.
In addition to the Scholarship, Berry received a tiara and sash and won the Pageant Directors Award and the Talent Award.
First Runner-Up is Summer Hamari, a student at Columbia College. Hamari, who lives in Copperopolis, also won the awards for Congeniality, Achievement and Poetry.
Second Runner-Up is Ava Mosley a student at Calaveras High School. Mosley also won the Community Service Award and the Photogenic Award.
Third Runner-Up is Briana Wagner, a Calaveras High School senior.
All four ladies will make numerous appearances at all of the major Calaveras County Fair and Jumping Frog Jubilee events over the next three days and represent Calaveras County at larger events over the next year.
The "Newsmaker of the Day" is heard each weekday morning at 6:45. 7:45 and 8:45 on AM 1450 KVML and 102.7 FM