Capitol Frog Jump Promotes Calaveras County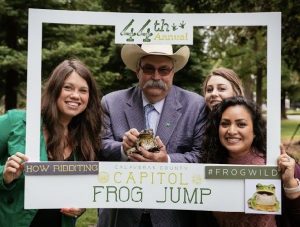 Assemblyman Frank Bigelow Host Capitol Frog Jump

View Photos
Sacramento, CA — Lawmakers in Sacramento took time out during the noon hour yesterday to jump frogs on the capitol lawn.
The 44th annual capitol frog jump was part of the buildup to the four day fair kicking off today. The event, hosted by Assemblyman Frank Bigelow and Senator Tom Berryhill, featured a mix of legislators, staffers and members of the media.
Bigelow says, "The frog jumping competition was fierce this year. The annual event is a great way to bring the capitol community together to highlight the rich history behind the Calaveras County Frog Jumping Jubilee."
Berryhill adds that it is a great way to showcase Calaveras County each year.
While the entrants came nowhere near Rosie The Ribbeters record jump of 21-feet and 5 ¾ inches, first place went to Lea Park-Kim, a legislative staffer for Senator Joel Anderson. Her frog "Mr. Jeremy Fisher" jumped just over 8 feet.