Tuolumne County Voices Target Shooting Concerns To BLM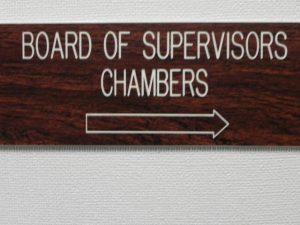 Tuolumne County Board of Supervisors Sign

View Photos
Sonora, CA — The Tuolumne County Board of Supervisors is concerned about the growing amount of target shooting occurring on Bureau of Land Management Property off French Flat Road.
The Supervisors voted to send a letter this morning to the federal BLM requesting a shooting closure in the area off French Flat Road near New Melones. The area has historically been utilized for horseback riding and other recreational opportunities. In recent years, however, there has been more and more live-fire activities, according to the county's letter. The county received a petition from around 100 residents describing the safety risks and public disturbance that takes place throughout many days and evenings.
District Five Supervisor Karl Rodefer noted that he is an avid target shooter, but stressed that it needs to be done safely. He added, "We've tried to work with BLM, but they admit that they just do not have the resources…other than about twice a year to go out and clean the place up…they don't have the resources to police the activity out there."  Randy Hanvelt backed Rodefer's statements regarding safety concerns.
The vote to send the letter was 5-0.