Large Crowd For Mother Lode Roundup Parade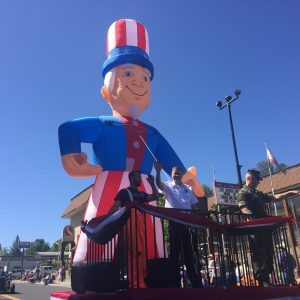 61st annual Mother Lode Round-Up Parade.
Sonora, CA – Mother Nature made sure there was plenty of sunshine for this Mother's Day weekend event that marks the 61st annual Mother Lode Round-Up Parade.
The warm temperatures brought out thousands to line Washington Street in downtown Sonora.  The crowds cheered as an Uncle Sam blow up character sailed past, tapped their toes as bands marched by and clapped for trotting horses with Tuolumne County Sheriff's Posse members and rodeo queens in the saddles. There were also dancers, classic cars and hogs, fire trucks, police patrol cars and a slate of political candidate all vying for June primary election votes. However, what brought the revelers to their feet was the sound of the National Anthem and a huge red, white and blue flag at the end of the parade.
Next up is the Rodeo at the fairgrounds at 2 p.m. A Mother's Day breakfast kicks off the Sunday festivities that include more rodeo action, including for the young buckaroos.