Candidates Further Debate Issues Ahead Of Primary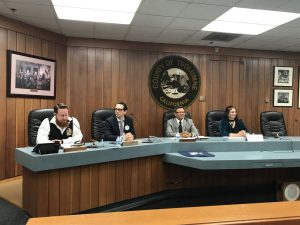 Candidates for Supervisor District Three

View Photos
Sonora, CA — Candidates for local office had one of the final opportunities to speak before a large group of voters this evening.
The Tuolumne County Chamber of Commerce hosted a candidates's night for Tax Collector, Sonora City Council and Tuolumne County Board of Supervisor district two and three. There was a full house in the board of supervisors meeting room in downtown Sonora.
Three of the four Sonora City Council candidates were on hand, Jim Garaventa, Colette Such and David Axelrod. They were asked multiple questions that had not been brought up at other forums to this point, such as their opinion on continuing the two year term of the Mayor, ways to improve the city's planning commission and whether they would favor a "pooper scooper ordinance." On the latter, Garaventa enthusiastically said "yes," Axelrod was open to the idea but would want more community input, and Such said she is opposed because of difficulties enforcing it and not wanting people to call the police department about dog waste.
All of the District Two Supervisor candidates were in attendance, Ryan Campbell, David Titchenal and Randy Hanvelt. On the issue of the General Plan update, Campbell noted he would like the adoption delayed until after the election, while Titchenal and Hanvelt argued it was overdue and should be completed sooner. Asked if they support a new state directive calling for all new homes to be built with solar panels by the year 2020, Hanvelt said "Absolutely not," arguing it will increase the cost and complexity of new homes. Titchenal is also opposed, calling it "crony capitalism" in California. Campbell is in favor of the directive, arguing, "We need to look toward the future, and solar is the future."
The four candidates for District Three Supervisor took part, Aaron Rasmussen, Anaiah Kirk, Merv Cancio and Laurie Sylvester. During his introduction, Kirk stood up and spoke pointedly against a recent newspaper editorial written by Supervisor Evan Royce where he questioned whether it is possible to effectively raise a family, hold a full-time job, and perform as a supervisor, as Kirk would do. Kirk stated, "Yes…and I do know how to raise my family." He added that several supervisors outside the area hold both full-time jobs and serve the county. He argued it is part of his work ethic that was instilled upon him growing up. Both Cancio and Sylwester countered at different times during discussions, and referenced their decision to leave work to become a full-time supervisor. Cancio stated that if you work eight hours in a job and eight as supervisor, you only have eight hours left in the day. Other topics that came up included affordable housing, balancing the budget and whether the juvenile detention facility should continue to operate. Speaking about the juvenile hall, Kirk stated he was against constructing it at the beginning because he feels it is too difficult to rehabilitate youth in 43.4 days, which is the average stay of an inmate. He expressed a desire to try to make it work at this point, but said he can make difficult decisions if they need to be made. Cancio indicated he likes the juvenile hall in concept as it keeps kids closer to families. However, he stated the numbers need to balance out after a few years of operation, and if not, he is concerned about it taking funding away from other programs. Sylwester stated she was against the concept of the facility when it was first being discussed many years ago, and was an advocate for other approaches used in different states, but said they failed to gain traction with the past board of supervisors. Rasmussen was the most outspoken against the juvenile hall and indicated a willingness to close it as a cost cutting measure, saying, "not a difficult decision."
Candidates for Tax Collector, Michelle Ronning and Justin Birtwhistle were also on hand, and they spoke about their background and expertise they would bring to the position if elected.
The primary election is coming up on June 5.