Tuolumne County Tourism Spending Up 13 Percent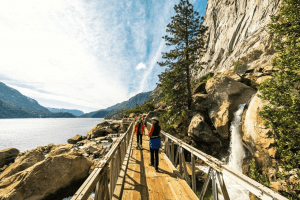 Hiking at Hetch Hetchy Reservoir

View Photos
Sonora, CA — While across the Golden State tourism spending continues to rise, the latest industry figures indicate Tuolumne County's tourist trade is booming.
At the Tuolumne County Visitors Bureau (TCVB), tourism officials say while they always expect continued healthy growth, they were very impressed with new data from a Dean Runyon and Associates report released by the state's Tourism Office, Visit California. It shows that locally, direct travel spending shot up 13 percent to $253.3 million last year when compared to the previous year. Statewide, economic spending at $132.4 billion reflected a 4.8 percent overall increase.
As for related tax revenues in Tuolumne County, last year's receipts of $19.2 million came in 12.9 percent ahead of 2016's $17 million. Last year throughout California revenues of $10.9 billion constituted a 2.8 increase.
Employment-wise. Tuolumne County's tourism workforce, totaling 2,480, grew 8.3 percent in 2017 from 2016. Over the same period, travel industry jobs in California last year, which came in at 1.14 million, showed a 3.1 percent improvement.  TCVB officials note that Tuolumne is among the top 20 counties in California whose travel-generated jobs constitute the majority of the local employment.
Hand-selling, Targeted Marketing 
Looking back over the past two decades, while the Great Recession put a definite dent in what had been a long slow rise in tourism's local economic impact, recovery and budding new growth seen in 2014 and 2015 has given way to a blooming environment. TCVB Communications and Tourism Manager Katie Kirkland comments, "I think a lot of it has to do overall with the hospitality of our county…all of our partners and working hand-in-hand with them."
Kirkland attributes the welcome bump in local tax receipts to travelers spending a lot more time in the county. "Through marketing efforts we always have to remind people where Tuolumne County is, who we are and what we have to offer," she confides.
Recalling that well over half of Yosemite is in Tuolumne County, she shares, "We pitch it as the 'under loved' section…and that it is a lot more resident-friendly to stay right outside the park than inside…and we have these great places like the Gold Country and the High Sierra…using that marketing tactic we extend peoples' stays."
TCVB Executive Director Lisa Mayo points out that seeing the numbers continue to grow across the board shows just how important and relevant tourism is to the county's economy, businesses and residents. Well pleased with marketing efforts that are yielding an obvious return on investment, she stresses the importance of keeping the industry sustainable. With that top of mind goal she says, "We are constantly working on new ways to promote Tuolumne County to varying audiences."
You can view a sampling of promotional Tuolumne County tourism images from the TCVB archives by clicking into the image box slideshow.