McClintock, Feinstein And Harris Give Opinions About Iran Nuclear Deal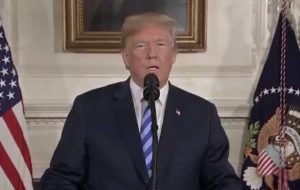 President Trump

View Photos
President Donald Trump's decision to pull out of the Iran Nuclear deal is receiving both support and criticism from California lawmakers.
Trump has been a long critic of the agreement, which was finalized in 2015 by Iran, the United States, France, Germany, Russia, China and the United Kingdom. It called for Iran to convert and reduce its nuclear facilities, and in turn, the other countries lifted nuclear related economic sanctions.
In announcing his decision to pull the United States out of the agreement this week, President Trump stated it was a "horrible one-sided deal that should have never ever been made." Earlier economic sanctions are now being put back in place.
Republican Congressman McClintock states, "I am in total agreement with President Trump's decision to withdraw the United States from the Iran Nuclear deal, a deal I termed a breathtakingly dangerous act when President Obama first floated the idea. President Trump has shown, as President Reagan proved when he ended the Cold War, that negotiating with rogue governments and dictators must be conducted from a position of strength. We must hold Iran, the chief state sponsor of terrorism in the world, accountable for its action now and in the future."
The decision is drawing criticism from leading state Democrats. California's senior US Senator, Dianne Feinstein, says, "President Trump's decision to withdraw is a strategic mistake contrary to our national security interests. The greatest threat to the United States and Israel is a nuclear armed Iran, and the agreement prevents that. There is absolutely no sound reason to exit at this time."
California Senator Kamala Harris weighs in, "The decision to violate the Iran nuclear deal jeopardizes our national security and isolates us from our closest allies. This nuclear deal is not perfect, but it is certainly the best existing tool we have to prevent Iran from developing nuclear weapons and avoid a disastrous military conflict in the Middle East."