Former California Governor George Deukmejian Remembered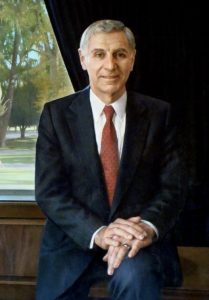 George Deukmejian

View Photos
Long Beach, CA — California's former Republican Governor George Deukmejian, nicknamed the Iron Duke, passed away at the age of 89.
Governor Jerry Brown yesterday ordered flags to be flown at half-staff, and commented, "George Deukmejian was a popular governor and made friends across the political aisle. Anne and I join all Californians in expressing our deepest condolences to his family and friends."
Senate Republican Leader Patricia Bates noted,  "He was a man of integrity who fulfilled his commitment to keep Californians safe by successfully reforming the state's criminal justice system. He fought hard for what he believed in and earned respect across the political spectrum for his willingness to address tough challenges, such as balancing the state's budget."
Deukmejian, who earned his nickname the Iron Duke for his opposition to spending, died of natural causes at his home in Long Beach. He served as Governor from 1983-1991, overseeing natural disasters like the Loma Prieta earthquake. Prior to becoming governor he served as California's Attorney General and in the Assembly and Senate.