Relay For Life Tuolumne County Raises Over $39K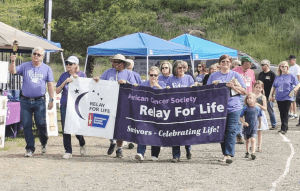 Relay for Life Tuolumne County May 5 2018

View Photos
Sonora, CA — Despite taking on new accountabilities for raising significantly more local sponsorship dollars, Relay For Life Tuolumne County organizers are pleased with the results of its 20th annual running.
Event spokesperson Morgan Vaughn shares, now that the totals are in from this past weekend's event at the Tuolumne Band of Me-Wuk Indians' Westside property, it looks like the American Cancer Society (ACS) will receive a check for $39,156.74 that will go towards paying for cancer research and patient support programs.
Still recovering from what she describes as an exhausting effort, Vaughn proudly confides, "This year we had two fewer teams than last year and still raised about $3,000 more!"
She adds that organizers were additionally challenged by a new Relay event policy that ACS officials floated down the ranks last summer, which did not reach her group's ears until sometime last October. Under the newly amended rules, the number of Relay events involving ACS regional offices' financial and planning support was being reduced. According to Vaughn, the Modesto office, which used to provide support to 26 events, was only going to handle six.
Keeping It Local By Going 'DIY'
"Nationwide, the American Cancer Society is not getting as much in donor dollars as they used to and in order to remain a place that people could go to for cancer support…cut down on Relay events," Vaughn explains. "Our option, when it came down to having a traditional Relay [receiving] 100 percent support, would be to move to Oakdale…which does not feel like a Tuolumne County event, so we opted to go to the DIY."
She says this meant that her group would get virtually no behind-the-scenes ACS help and interface with just one national New York-based Relay representative. Too, local organizers would receive somewhere between $2,800 and $3,200 to put towards event-day expenses; the rest of whatever else needed to be covered would have to come through sponsorship funds and/or in-kind support.
Vaughn enthuses, "I know most people did not realize that there was a change in ACS support…although we made sure the sponsors knew about it!" While she did not have event-planning support dollar figures to share, she says it ran into the thousands; covering everything from facilities to printing. Ahead of the big event, she says volunteers and community members also rallied and dug into their own pockets to help make April's "Survivors Social" happen.
Overall, she admits, "It was overwhelming, even for eight-year Relayers, because there is so much behind-the-scenes work that I do now genuinely appreciate because we had to do it." In a cheerful aside she notes, now that her team has this first "DIY" under their belts, come July they will be using all the lessons learned and generated templates to plan next year's event.
View event images by clicking into the image box slideshow.