Yosemite Adopts Wild Mustangs To Help With Operations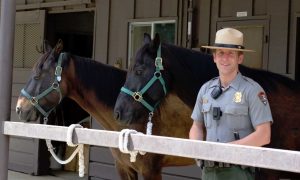 Justin Fey stands with Drifter and Sandman

View Photos
Yosemite, CA — Two wild horses have been adopted by Yosemite National Park after being trained by inmates at the Rio Cosumnes Correctional Center in Elk Grove.
The park has approximately 100 staff horses and mules that help with things like search and rescue, traffic control and Mounted Patrol. However, these are the first two wild horses to join the ranks.
Drifter and Sandman, both six years old, completed four months of training via the Sacramento County Sheriff's Office Wild Horse Program. The program allows jail inmates to feed and care for the animals, sensitize them to people and activities, and eventually saddle them up and ride them.
Justin Fey, Yosemite Ranger and Mounted Patrol Program Manager, says, "This is a unique and exciting opportunity to have these wild horses working with us here in the park. These horses are serving as natural ambassadors for wild mustangs and for Yosemite National Park. We are excited to get these horses ready to help us in a variety of functions."
Now that the mustangs are formally adopted, rangers are in the process of adapting them to the new surroundings, which includes getting them comfortable with things like trails, asphalt, park visitors, bicycles and motor vehicles.
Finding homes for wild horses is a major challenge. The US Department of Interior Bureau of Land Management estimates that there are over 46,000 horses currently in holding facilities and in need of permanent homes.