Calaveras Busts Indoor Marijuana Grow Worth Over $9.6 M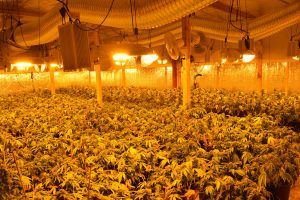 Burson Criminal Marijuana Grow Bust May 3 2018

View Photos
San Andreas, CA — The Calaveras County marijuana enforcement team destroyed another industrial residential grow while arresting three suspects, including a deportee with an active felony warrant.
Sheriff's officials say the bust went down yesterday morning in Burson at a residence located within the 5000 block of Southworth Road. A total of 4,834 marijuana plants with a rough street value of $9.6 million were eradicated. Additionally, three subjects with Asian names and out-of-state addresses were arrested. Among their felony charges are illegal marijuana cultivation, including in violation of the water code; maintaining a drug house and criminal conspiracy. All were assigned bails of $50,000.
Investigators have not yet officially confirmed whether or not the grow is related to a large-scale residential grow operation tied to the Fujian Chinese province that is under investigation by the FBI and other federal, state and local agencies. As reported here, the network has involved many sites in the Sacramento area as well as in outlying counties like Calaveras, where more than a dozen eradicated grows were confirmed linked. All were located in the Valley Springs and Burson areas.
On the five-acre property, investigators found numerous cargo containers and enclosed structures that had been converted for indoor grows. The operations were powered by several industrial-size generators, housed in structures that were insulated and foam-padded. Officials add that although the residence itself did not contain any growing marijuana the entire front yard the team found several thousand marijuana plants growing in pots around an empty in-ground pool.
Arrested were Yi Lin, 58, of Marlton, New Jersey and Ni Kong, 57, of New York, New York, who was also charged with having a forged prescription for a narcotic. The third suspect, Ni Shao, 51, of Seattle, Washington, originally provided identification for the name Hongde Zheng. After fingerprinting him authorities were able to confirm his true identity; they also learned that he was deported from the U.S., returned illegally and had an active warrant for burglary out of Newport Beach.