Who Will Be The New Roundup Queen?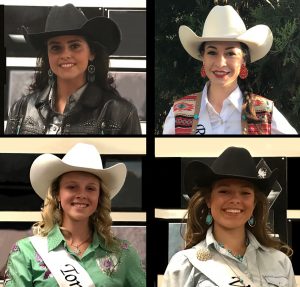 Samantha Smith, Rachelle Snitchler, Tommi Cover and Victoria Smith

View Photos
Sonora, CA — The 2018 Mother Lode Roundup Queen will be crowned this weekend.
It will be a busy weekend for the contestants. First off, the public is invited to come view the horsemanship portion of the competition on Saturday morning at the Sheriff's Posse Grounds outside of Jamestown. The reigning queen, Mary Mackenzie Suess, explains, "They are going to go before a panel of judges and practice rail work, demonstrate their control of their horse, do their pattern, a flag run, work a cow, and just show the complete control they are going to be demonstrating during their reign."
Saturday's public portion of the competition starts at 10am and is free to attend. Then coming up Sunday at 5pm is the pageant at the Sonora Opera Hall. There is a $10 entrance fee. This year's candidates for queen are Rachelle Snitchler, Samantha Smith, Victoria Smith and Tommi Cover. There is also one Junior Queen contestant, Opal Cahoon.
For more details about the 2018 Mother Lode Roundup, click here.