Full Slate Of Candidates Attend Farm Bureau Event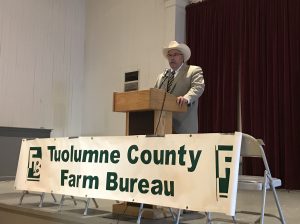 Frank Bigelow

View Photos
Sonora, CA — Around 20 candidates gave stump speeches, and took questions from the audience, at the Sonora Opera Hall Thursday evening.
The Tuolumne County Farm Bureau held its candidates' night before a packed house. All of the candidates for Tuolumne County Board of Supervisor district two and three seats were on hand, the four Sonora City Council candidates, the two for Tuolumne County Tax Collector, and a mix running for US House District Four, Senate District Eight and Assembly District Five.
Incumbent Assembly member Frank Bigelow kicked off the event. He spoke about first being elected five years ago and referenced his family coming to the region in the 1800's. He noted that he and his wife have been married for 41 years, and they have three kids and six grandchildren. He also spoke about some of his key leadership posts, including being the Vice Chair of the Appropriations Committee. His lone challenger, Democrat Carla Neal, was not in attendance.
Following Bigelow, the three candidates for Tuolumne County Supervisor District Two spoke, David Titchenal, Randy Hanvelt and Ryan Campbell.
Titchenal talked about his displeasure with the projected budget deficit for next year, noting it breaks his heart watching how the county is currently being run. He praised the supervisors' recent decision to declare that Tuolumne County is not a sanctuary jurisdiction and spoke about the merits of the proposed State of Jefferson.
Incumbent Hanvelt talked about his dedication and hard work for the residents of the county, adding, "We need to build a strong path to prosperity." He touched on the need for market rate jobs and employment opportunities. He also detailed his role in helping to put together a master stewardship agreement with the Stanislaus National Forest.
Campbell spoke about the struggle many young families face in the county. He noted the need for better roads, economic opportunities, and keeping programs like recreation and libraries fully funded. He also talked about his background helping to oversee the county's tree mortality program and its virtues. He added he would like the county to seek more CDBG grants.
Later the district three candidates, Anaiah Kirk, Merv Cancio, Laurie Sylwester and Aaron Rasmussen were given time speak.
Kirk opened by noting he has 80 citizens that have contributed to his campaign, and he has secured endorsements from supervisor Karl Rodefer, former supervisor Teri Murrison, Frank and Sally Helm, T.Y. Atkins and others. He spoke about the need to create an environment where young people will stay here, and emphasized his opposition to marijuana cultivation. Addressing the issue that he is the only candidate for the seat who would keep his full-time job, he praised current supervisor Evan Royce for doing the same, and stated we would all be better off with fewer career politicians.
Picking up on that last topic, Cancio noted he would leave his job of 34 years as a teacher at Curtis Creek Elementary if elected. He referenced a Tuolumne County Grand Jury Report that indicates the supervisor position requires 40-60 hours per week. He argued that things can go wrong when people miss small details. Over his time in education he noted that he has learned how to get things done, and to get things done respectfully. He stated his desire to get everyone to the table, work together and find a common goal.
Sylwester focused much on the topic of farming and agriculture, noting that on the issue of land-use policy, it is important to stand with agriculture. She said that her family farm helped put her through college. She also touched on the importance of expanding biomass opportunities, and her support for more broadband internet infrastructure, and cultural and recreational opportunities. She also emphasized that she will give her full attention to being supervisor and is retiring from Columbia College.
Rasmussen spoke about his family's background in the timber industry, and said that he understands the struggles of a small community like Tuolumne. He stated he is refraining from going door-to-door, putting up signs, and doing mailers, because he wants to, "Do onto others as you want done onto you." When asked about a recent reference he made about the Tuolumne County Visitors Bureau being a non-essential program, he responded that the "numbers are fluffed," and questioned the claim that it brings millions of dollars in economic impact and helps create thousands of jobs.
Republican Mitchell White was the lone candidate for the US House District Four seat, of which Tom McClintock is the incumbent. White spoke heavily about a bill he is developing to reduce the cost of healthcare. He says it would create more transparency and spark competition. He also criticized McClintock for having only four bills that have become law over the past 10 years, and the Congressman's support for recreational marijuana. None of the Democrats in the race were on hand, Regina Bateson, Roza Calderon, Robert Lawton or Jessica Morse.
Two Democrats running for Senate District 8 were in attendance, Tom Pratt and Paulina Miranda. Republican Andreas Borgeas was not there. The seat is wide-open following the terming out of Republican Tom Berryhill.
Pratt noted, "I am your neighbor," as he resides in Calaveras County, and pointed out that the other two candidates reside in Fresno. Pratt spoke about being a past President of the Vallecito Union School District, and his desire to restore funding for county fairs. He said his campaign can be summed up in two words, the need for more "access and representation."
Miranda spoke about her professional background and a desire to help constituents achieve their dreams. She added that there are numerous natural resources in the district going unused, and she would like to see that change. When asked about specifics, she stated she would need to sit down with many in the room, if elected, to better understand the community's issues.
Other candidates on hand included Sonora City Council hopefuls David Axelrod, Kurt Bryant, Colette Such and Jim Garaventa, and Tax Collector hopefuls Michelle Ronning and Justin Birtwhistle. Others who will appear on the ballot, but do not have any competition, also spoke. They included Clerk and Auditor-Controller Debi Bautista, District Attorney Laura Krieg, Sheriff candidate Bill Pooley and Superintendent of Schools candidate Cathy Parker.
The event lasted over three hours, as the doors opened at 5:30pm and it concluded before 9pm. Many stayed the entire time to hear from all the candidates. The primary election is coming up June 5.