Relay For Life Sets Pace For 20th Running This Weekend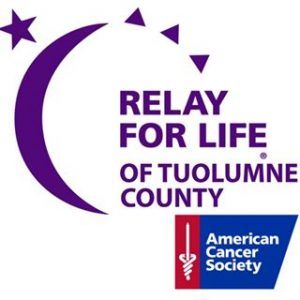 Relay for Life of Tuolumne County logo

View Photos
Sonora, CA — Relay For Life of Tuolumne County organizers are setting an ambitious pace for the event's 20th annual running this weekend.
Spokesperson Morgan Vaughn confides they have set a hopeful local goal of raising $45,000 for cancer research and patient care programs. A "paint the town purple" contest with downtown Sonora businesses has been building buzz for the actual 24-hour relay, which begins with a Survivor-Caregiver Lap Saturday morning at 9 o'clock on a gravel track. The venue is the Tuolumne Band of Me-Wuk Indians' Westside property on Tuolumne Road next to Summerville High.
For anyone not already participating, Vaughn shares there are still plenty of ways to support the effort, including purchasing one or more luminaria bags at $10 each to honor in memory or provide support to a person battling cancer. At 8:30 Saturday night during a ceremonial bag-lighting ceremony the names of those being honored will be read aloud. The bags can be purchased online and through the organizers (a link is provided at the end of the story).
The public is also invited to come out to support the relay. "If you are not on a team it does not matter…we have all kinds of fundraising activities and sales at booths, raffles, taco dinners, hotdog lunches and live music in the afternoon…it is a family-friendly event," Vaughn enthuses.
Activities, Music, Lights! 
Sound Extreme DJ music and hourly activities for the teams that the public can participate in are also part of the event, she says. Black Oak Resort and Casino has also arranged for the band Burn Permit to perform in the late afternoon and during the taco dinner. On Saturday night, following the Luminaria ceremony, the gates will close at 10 p.m. to those not participating in the relay. However, they will reopen early Sunday ahead of the closing ceremonies at 8:30.
Vaughn says things are tracking well for this year's relay with over 140 participants and 30 survivors registered and more than $22,600 already raised. "We usually rake in about $20,000 during the 24-hour event," she estimates. Last year's event raised $36,000 between 200 registrants and attending members of the public.
The American Cancer Society no longer has a Calaveras County Relay event, due to insufficient turnout; so Vaughn encourages anyone there or in any other surrounding counties to come out. As she puts it, "Cancer never sleeps…does not discriminate so we would like to open the event to as many people as possible."
For more details and ways to volunteer or donate, click here.