Trustees, Public To Mull Proposed Wildcat Ranch Land Swap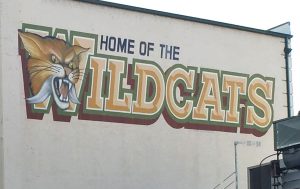 Wildcats Logo Sonora High School

View Photos
Sonora, CA – Anticipated public interest in at least one of this week's topics has triggered moving the Sonora Union High School Trustees meeting to the school library.
According to District Superintendent Pat Chabot, tomorrow's session will include a discussion about a proposed land swap by the nonprofit Park Foundation involving the district-owned Wildcat Ranch property and a 22-acre piece of property located adjacent to the high school campus.
The foundation, which has its eyes on the ranch for an extensive community park project, secured an option to buy the parcel by the school and, as reported here, submitted its proposal at the last trustees meeting two weeks ago. The offer reflects a long-stated desire that Chabot and district officials have been articulating: that they would prefer to own land much closer to the campus so that it would be much more easily accessible and of use to more students without having to bus them. The ranch is home to the district's ag program and cross-country trail.
Weigh In On Possible Land Swap
Chabot expects to hear a good peppering of public comments and much discussion by the board over the possible swap, since the idea came as a relative surprise to more than a few.
While it theoretically might seem like a dream come true, the superintendent is quick to note, "It is right next to our campus, which is really nice, but a lot [of the 22-acre parcel] is not really usable. It is a big hill – it is the one right behind our football field and goes all the way down to Snell Road on the backside — so if we were to use it, it would take quite a bit of earth-moving."
Too, he adds, "Right now we have no idea, no plans if we were even to get that property, what would we do with it. So it is going to take a little while to figure out the options on it."
Dome, Pool Also On Agenda
As for the district-owned historic Dome building, Chabot says that since no government or local agencies have come forward with interest to buy or lease the building, the board plans to decide tomorrow whether it will formally proceed with efforts towards selling it to a private individual or group.
Also on the agenda is a continuing discussion on community use of the new pool that will recap Chabot's recent meetings with Tuolumne County Recreation Department and Sonora Youth Aquatics officials.
Relating to that, the board will additionally work to define a job description and qualifications for an Aquatics Coordinator, a brand new one-year position that comes with a $3,500 stipend that Sonora Youth Aquatics has offered to fund. Plans are to hire someone within the next month or so whose primary focus will be how to get more public use out of the pool with the help of county recreation and aquatics program officials.
Tomorrow's meeting will begin at 6 p.m.