CHP Officer To Be Recognized For Kind Act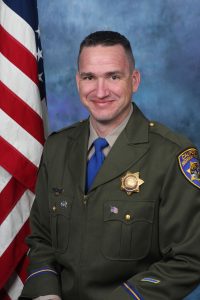 Joshua Wilkinson

View Photos
San Andreas, CA — The California Highway Patrol Valley Division Chief's Commendation will be given to a local officer at the Angels-Murphys Rotary Club weekly luncheon on May 3rd at 12:00 pm at the Historic Murphys Hotel.
Valley Division Assistant Chief Ryan Stonebraker will present Officer Josh Wilkinson his commendation award to recognize his interactions with a local homeless individual that was observed and reported by local resident Andi Kinyon.
Kinyon posted to Facebook:
"Just now at the gas station in Murphys, I saw Gary who is a very kind homeless man. I hadn't seen him in a long time and I had been a bit worried about him.

There was rain in the forecast so I gave him an extra umbrella that I had. As I was walking away a CA Highway Patrol drove up on him. I hung back for a moment, afraid that they were going to give him a hard time. Gary is elderly, and very kind and honest.

I didn't catch the officer's name, but he got out of his patrol car and said to Gary "I told you I would find you" and proceeded to walk around to the back of his car and get a pair of brand new leather boots out of his truck. He handed them to Gary, and then they embraced and I was just so moved by this gesture.

I am so proud to call Calaveras County my home, and wanted to remind you all how good our police force is."
Officer Wilkinson started with the CHP in October 2007. He has worked in the East Los Angeles, Modesto, San Andreas, Ebbetts Pass Resident Post offices. Officer Tobias Butzler thanks the Angels-Murphys Rotary Club for hosting the award presentation.
The CHP Valley Division serves the greater Sacramento area, encompassing ten counties, including Calaveras up to Lake Tahoe.