Dog-Gone Good Times In Twain Harte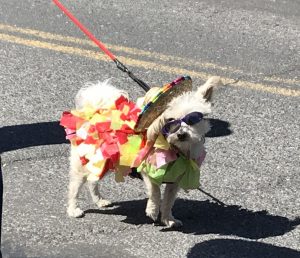 2018 Twain Harte Dog Parade

View Photos
Twain Harte, CA — While the Mother Lode has parades celebrating everything from rodeos to logging to holidays, today it was the four-legged family members turn to be in the spotlight.
Around 50 dogs took part in the "Who Let The Dogs Out" parade through downtown Twain Harte this morning. There were irish terriers, poodles, huskies, collies, chihuahuas and everything in between. As you can see in the photo gallery, many came dressed for the occasion, in tutus, sunglasses and even a campaign sign.
The event, which kicked off at 11am, was hosted by the Twain Harte Area Chamber of Commerce and Unity Spiritual Center of the Mother Lode. It concluded with pet blessings at the church, display booths and of course hot dogs for sale.