Westside Development To Spur Economic Growth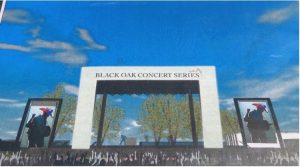 Stage At Westside Property Image

View Photos
Tuolumne, CA — Plans are coming together for Black Oak Casino Resort's concert series at the new Westside Pavilion in Tuolumne.
Resort Executive Director of Operations BJ Nelson led some media on a tour this afternoon of the grounds which will be able to hold 6,000 concert goers (2,500 reserved seats and 3,500 general admission). It will include a 140 ft. long stage with state of the art sound and lighting (see photo gallery).
The first two events have already been announced, platinum selling country singer Justin Moore on May 25 and comedian Larry the Cable Guy on June 15. Events will run through October, with around eight tentatively in the works. The 328 acre site is situated off Tuolumne Road near Summerville High School. For more details about the series, click here.