K9 Corners Wanted Sonora Suspect After Chase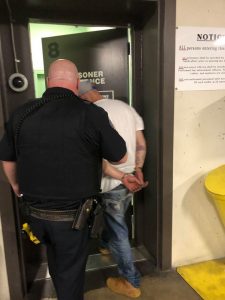 Edward Cooper in handcuffs

View Photos
Sonora, CA – A wanted man led police on a foot chase in the downtown Sonora area, but he did not get far as a K9 cornered the suspect.
Sonora Police Officers teamed up with Tuolumne County Sheriff's Deputies to check a home on the 120 block of Norlin Street in Sonora in hopes of finding 28-year-old Edward Cooper. He was wanted for several outstanding warrants including vehicle theft, probation violations and resisting arrest. However, Cooper spotted the officers and took off on foot. The pursuit only lasted a few blocks before K9 Maverick, officers and deputies all cornered the suspect in the 140 block of Green Street.
A search of Cooper turned up a hypodermic needle and a white powder possibly methamphetamine. He was booked into Tuolumne County Jail for his previous warrants and new charges including obstructing, drug and paraphernalia possession.  The new charges tack on $3,000 in bail to his already over $50,000 bond for the past warrants.