Rotary's Celebrity Dinner Raises Final Funding For Big Dreams Playground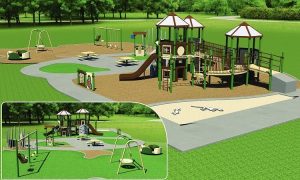 Final Artist Rendering For Big Dreams Playground

View Photos
Sonora, CA — Between $22,000-$23,000 was raised over the weekend at the Sonora Sunrise Rotary Club's 10th annual celebrity dinner at the Black Oak Casino Resort.
The Rotary's nonprofit beneficiary this year is the Big Dreams Universally Accessible Park and Playground that will soon be constructed adjacent to the Tuolumne Memorial Hall. Rotary Club member John Maciel says, "We exceeded our goal by $2,000 and that is because of the generosity of the citizens of Tuolumne County that came out and supported the night's program."
Maciel adds that the club picked Big Dreams five years ago as the beneficiary of the celebrity dinner, when the project was still in its infancy, so it was only fitting that Friday's event came full circle, and provided the final money.
Maciel adds, "Around $14,000 was raised back then (five years ago) for the seed money. It helped the President of Big Dreams, Sarah Garcia, get started, and here we are, five years later, and she has raised, through grants and funds, over $340,000. This last bit of money we raised Friday night, that $22,000, will be going to complete the project, along with some additional items that were on her 'wish list' to make the playground really stand out and glow."
Garcia notes that Big Dreams has received approval for the construction from the county and the organization is working to schedule a groundbreaking ceremony.
Around 145 tickets were sold to the celebrity dinner, and there was both a silent and live auction. The dinner was served by various locally elected officials, business leaders and other dignitaries, who volunteered to take part in the event.