Study Links Wildfire Smoke To ER Visits, Especially Among Seniors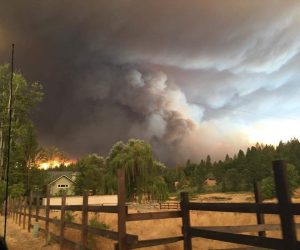 2015 Butte Fire Visible From Glencoe

View Photos
Sonora, CA — A Mother Lode health officer is weighing in on newly released research linking intense wildfire activity two summers back with heart-related health complications requiring emergency room visits, notably among 65-year-old plus patients.
As part of the scope, researchers reviewed over one million ER visits made in northern and central California over the deadly wildfire season back in 2015, a locally notable time as the Butte Fire was sparked during that period.
Noting that those with respiratory ailments can get into trouble fairly quickly during a wildfire, Calaveras County Health Officer Dr. Dean Kelaita also emphasizes, "During the Butte Fire in Calaveras and Tuolumne counties, the air was considered hazardous. So during that time people had a lot of problems…what we don't know a lot about is the long-term problems that people can get from exposure to that."
This particular study was able to also hone in on the relative risk of daily heart, brain and blood vessel-related ER visits on light, medium and dense smoke days relative to days without wildfire smoke exposure.
Takeaways After Revisiting One Million Plus ER Cases
Among the research findings are that smoke exposure was associated with increased rates of ER visits, not just for breathing trouble, but also ischemic heart disease, irregular heart rhythm, heart failure, pulmonary embolism and stroke and that risks were greatest for those age 65 and older. The greatest increased relative risk was noted within a day of dense wildfire smoke.
During these times, researchers found rates of ER visits among adults 65 and older increased 42 percent for heart attack and 22 percent for ischemic heart disease. Overall, ER visits for all cardiovascular and cerebrovascular causes rose across all smoke days with the greatest increase during dense smoke days and among adults age 65 and older. As anticipated, respiratory conditions also increased.
Pollutants in wildfire smoke, which include ozone, carbon monoxide and fine particulate matter are linked to cardiovascular risk. Therefore, those with underlying cardiovascular disease risk factors — when exposed to wildfire smoke — may be at risk for an acute heart, brain or blood vessel event. The researchers additionally point to a 2010 AHA statement on air pollution, which already links particulate matter with increased risks of heart attack, stroke, irregular heart rhythm and heart failure exacerbation within hours to days of exposure in susceptible individuals; long term exposure to it can reduce life expectancy by a few years.
Risk Factor Awareness Vs. Wildfire 'Litmus Test'
"Maybe there are some people that are out there undiagnosed, walking around and it would take something like a wildfire to flesh that out," Kelaita muses. That thought well emphasizes the need for more public awareness of just who might be at risk for heart disease. These are not only people who have a family history but risk factors for heart disease; such as people who smoke; have high blood pressure and/or high cholesterol; diabetes; vascular disease.
Kelaita stresses, " Those people are very much at risk for heart disease and should be evaluated routinely — on a normal basis — and not wait for an emergency like a wildfire to make them symptomatic when they would have otherwise been able to have that controlled."
He recalls that during the Butte Fire, and particularly during some of the short-notice evacuations, several people who did not keep medications on hand and/or accounted for were arriving at shelters without them. The situation was similar for those requiring certain kinds of medical equipment. Clearly, better maintaining and keeping track of medications and supplies could also be a proactive way to reduce the risk of an ER visit due to wildfire smoke impacts.
Too, Kelaita points out, for those already at high risk as well others with underlying conditions, actually abiding by existing common sense instructions will also go a long way to help reduce risk of health emergencies possibly related to wildfire smoke impacts. Among the basics, he says, is staying indoors in an air-conditioned environment and avoiding going out on dense wildfire smoke days when the air is at unhealthy levels.
The research, which was published as a Journal of the open-access American Heart Association Report, was a collaboration between researchers at the University of California San Francisco, California Department of Public Health and the U.S. Environmental Protection Agency and funded by the National Center for Advancing Translational Sciences, National Institutes of Health.