Pineapple Express Storm Prep; Here We Go Again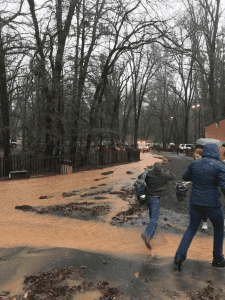 Gold Rush Charter School Flooding Mar 22 2018

View Photos
Sonora, CA — While the Mother Lode's latest impending storm is expected to bring less rain than the previous one two weeks back, OES officials are warning that it still has deadly potential.
According to the Tuolumne County officials, they are monitoring the National Weather Service's latest prediction of a wet storm system to move into our area Thursday evening and stay with us through Sunday morning. During this time it is possible that some residents will experience flooding, mudslides, downed trees and widespread power outages.
Ahead of the storm system OES is coordinating with CAL Fire, Public Works and other emergency personnel.
Sand is available at the following locations:
— Tuolumne Road Yard (18870 Birch Street) and at the Tuolumne City Fire Department
— Jamestown Road Yard (18188 7th Avenue)
— Big Oak Flat/Groveland Road Yard (11240 Wards Ferry Road)
— Columbia Airport (10723 Airport Road)
Please bring your own shovel and bags to fill.
Other Prep Steps, Tips
OES shares the following suggestions:
— Reduce or eliminate unnecessary travel during the storm period
— Before the rains clear debris away from culverts and drains; keep gutters clear of debris; place sandbags
— Keep a full tank of gas in your vehicle
— Have emergency supplies on hand such as sandbags, prescription medications, food/water, flashlights, battery-operated radio, battery operated lanterns, batteries, a phone that plugs directly into the wall, etc.
— Ahead of the storm check on neighbors who may have special needs
— Prepare for the potential for power outages due to wind, downed trees, etc.
— Insure pets/livestock are safe, especially those animals that live outside
— Listen to your local radio stations for changing weather
— Prepare for alternative sources of heat
— Use 911 for emergencies only
Due to the high level of tree mortality, OES officials urge residents to be aware of their surroundings and watch for falling limbs, woody debris and falling trees. Some trees may have power and/or communication lines attached to them and should not be approached or touched. If you see any, stay away and call PG&E immediately at 800 743-5002.