Planning Commission To Review Cell Tower Projects Backed By Verizon And AT&T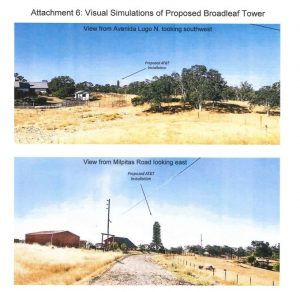 Proposed Cell Tower On Milpitas Road

View Photos
Sonora, CA — The Tuolumne County Planning Commission will vote whether to issue conditional use permits for two cell tower projects.
The first has the backing of AT&T, and proposes to construct a 73 ft. tall wireless communications tower, and equipment shelters, within a 40 ft. by 45 ft. fenced compound at 8664 Milpitas Road. The site is near the intersection of Las Cruces Road in the La Grange area.
The second project, backed by Verizon, calls for construction of an 85 ft. tower, and equipment shelter, within a 35 ft. by 35 ft. fenced compound at 17330 High School Road in the Jamestown area. The project would be within a site designated as a business park, west of the Highway 49/108 intersection.
Both projects would be designed to resemble a tree to better fit in with the surrounding landscape.
They will go up for review at Wednesday's planning commission meeting that starts at 6pm in the Board of Supervisors meeting room in downtown Sonora.