Update: "Pineapple Express" Will Bring Much More Rain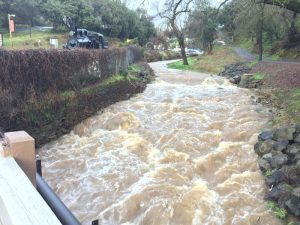 Sonora Creek 1/11/17

View Photos
According to the National Weather Service, a Pacific storm system is forecast to spread sub-tropical moisture from near Hawaii into Northern California later this week. This surge of moisture from Hawaii is sometimes called the "Pineapple Express."
Rain is forecast to spread across the interior of Northern California from Thursday into the weekend. Periods of heavy rain, and strong gusty winds are possible Friday night and Saturday. Rain should decrease on Sunday.
Total rainfall amounts of two to seven inches are expected over the Sierra Nevada. One to three inches of rain is likely in the Central Valley. The warm subtropical air will mean high snow levels, generally above 9,000 feet until Sunday, when the precipitation decreases.
Rising water levels are anticipated on rivers and streams Friday afternoon through Saturday night, especially over the higher terrain where the combination of rain and melting snow will accelerate runoff. There is a possibility that the Upper Merced River that flows through Yosemite National Park, could flood for a brief time this weekend.
Runoff from this warm storm combined with melting snow over the lower mountainous elevations may also cause localized roadway flooding, or flooding of small river and streams in the Mother Lode and other low-lying areas.
Heavy rain totals from this storm system could result in flash flooding, washed out roads and bridges, mud slides, rock slides and debris flows. Minor street flooding is possible in urban areas and in other areas of normally poor drainage.
Residents should keep in mind that areas that flooded during the "Atmospheric River" event, could very easily flood again. If you live in a flood prone area or near streams and rivers, this would be a good time to prepare or review an emergency escape plan in the event that high water becomes a threat to your safety.