Caltrans Work Week Of April 2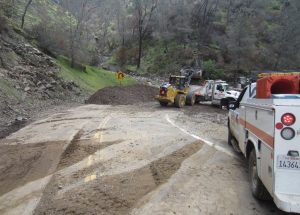 Caltrans Making Highway Repairs

View Photos
Sonora, CA — Post-storm repairs loom large on this week's Caltrans work roster.
Highway 49 between Moccasin Creek and Bear Valley Road remains completely closed through the end of April at least while Caltrans makes extensive repairs to a roadway wash-out that occurred during the Mother Lode's recent gully washer.
Too, on Highway 132 crews will be repairing a roadway slip-out between Narcisco Way and Bonds Flat Road Tuesday through Friday from 7:30 a.m. until 4 p.m., which could stall traffic for a few minutes at a time in that area.
Monday night through Friday morning, overnight striping on Highway 108 under a moving closure continues between Highway 120/Yosemite Junction and the Highway 49 Junction in Jamestown during which motorists should expect ten-minute delays from 8 p.m. until 6 a.m.
Highway 120 Hot Spots
Numerous work zones are planned along Highway 120 that may generate ten-minute travel impacts. They are as follows:
–Nearly round-the-clock Tuesday through Friday during pavement repairs and striping along a stretch between the Stanislaus/Tuolumne County line and the end of the divided highway as well as while striping is underway between Highway 49 and the Moccasin Creek Bridge.
–Tuesday through Friday between the Chinese Camp Railroad Crossing and Highway 49 North from 7 a.m. until 5 p.m. for drainage work.
–Wednesday and Thursday between Hopper Street and Ferretti Road for drainage work going on from 6 a.m. until 6 p.m.
Calaveras Cone Zones
Monday on Highway 4 between the Cherokee Creek West Bridge to Six Mile Creek, delays of up to 15-minutes are probable as a crew attends to guardrail repairs. Tuesday through Friday the work shifts to Highway 49, where the work will focus between Six Mile Creek and Calaveras Cement Plant Road, generating ten-minute waits. Hours for these chores will run from 9 a.m. until 3 p.m.
Tuesday on Highway 26 tree crews at work might trigger momentary traffic stops between Sawyer Road and Sandy Gulch Lane from 8 a.m. until 4 p.m.