Heavy Field Seek Local Congressional, Senate, Assembly And BOE seats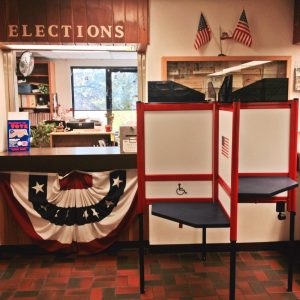 Tuolomne County Election Office

View Photos
Sonora, CA — The State of California has finalized the list of candidates who will be on the local ballot for races like Assembly, State Senate, Congress and Board of Equalization.
The top two vote getting candidates during the June primary will move onto the general election in November. Counties can begin sending out vote by mail ballots on May 7.
There are six candidates officially running for the District Four Congressional seat. Republican Tom McClintock is the incumbent and seeking a sixth term. He is the senior member of the House Natural Resources Committee, a member of the House Budget Committee and the chair of the subcommittee on Federal Lands. His state political career began in 1982 when he was elected to the California Assembly. He was later elected to the California Senate in 2000 and the US Congress in 2008.
One other Republican is in the race, Mitchell White, a senior accountant for the firm Ernst and Young. He describes himself as a fiscal and social conservative that has had the opportunity to work with healthcare, government and public clients. He is calling for reducing the size and spending of the federal government.
On the Democratic side, Jessica Morse has received the endorsement of the California Democratic Party, as well as six Congressional members, two former state senators and the Tuolumne County Democratic Club, to name a few. She is a fifth generation northern Californian who has served as a national security strategist.
Other Democratic candidates Regina Bateson and Roza Calderon have also made multiple campaign stops in the Mother Lode over recent months. Bateson became a Foreign Service Officer for the US Department of State following 9/11 and would be the only former consular officer in Congress. She earned a PHD from Yale University and became a tenure-track professor at MIT.
Calderon's family fled El Salvador when she was only two years old and she later went on to become a geoscientist and activist. She often speaks about the American Dream, and argues that leaders need to focus more on people's needs instead of party interests.
A fourth Democrat has also emerged in the District Four House race, Robert Lawton (not the former Calaveras County Administrator whom he shares the same name). Lawton's campaign website notes that he is originally from New York, spent time in Los Angeles, and currently resides on a 40-acre property near Yosemite. He worked on Wall Street for many years, later became a filmmaker who started his own film company. His campaign site includes a video endorsement from actor/environmentalist Ed Begley Jr.
Mother Lode residents will be asked to vote for a new Board of Equalization member, as Republican George Runner is terming out. Two Republican heavyweight candidates are former Assembly minority leader Connie Conway and current Senator Ted Gaines. Others in the race are David Evans, a Republican, who is a Chief Financial Officer, and Tom Hallinan, a Democrat, who is a college trustee/businessman.
In the race for the District 8 Senate seat, where Republican Tom Berryhill is terming out of office, the candidates include Democrats Paulina Miranda, a Fresno businesswoman, and Tom Pratt, a Calaveras businessman and school board member. Pratt has received the endorsement of the California Democratic Party. The only Republican is Andreas Borgeas, a Fresno County Supervisor, who has received Berryhill's endorsement, among many others. A fourth candidate, who declines to state a political party, is Calaveras businessman Mark Belden.
In the Assembly District Five race the candidates include incumbent Republican Frank Bigelow, a former Madera County Supervisor, who was first elected to the Assembly in 2012. His lone challenger is Democrat Carla Neal, who owns Neal's Mobile Notary Public in Madera County and is also an adjunct instructor at Fresno City College.
To view a list of local Tuolumne County races, click here.