Getting Closer To Clear Water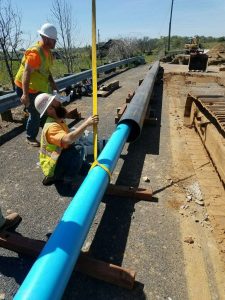 New pipe being inserted into the protective steel casing

View Photos
Don Pedro, CA — The last trickle of customers still without full pressure and clear water can now turn on the tap to a steady flow.
The Lake Don Pedro Community Services District reports the water system repairs have been completed and water pressure has been restored to the remaining customers on the West end of Ranchito, Golfito and Gaza Way areas. District officials happily reveal that one round of water samples for bacteriological testing has been completed from an independent laboratory and the results are "CLEAR/CLEAN/EXCELLENT." However, the "do not drink" order remains, but water officials expect it to be lifted sometime today.
As reported here yesterday, the second round of water testing results should also be back today. Thursday's storms created flooding that washed out roads and damaged some of the district's water main infrastructure, impacting around 250 customers.